Catalysing commercialisation of research: High Value Renewables Network Enterprise Fellowships
HVB recently awarded three Enterprise Fellowships - a scheme designed to support budding entrepreneurs to take research discoveries and progress them towards commercialisation. 
The three projects represent diverse areas of HVB's scope including biomanufacturing, platform technologies for catalysis and high value secondary metabolites.  
The HVB Enterprise Fellows are:
Joyce Bennett, University of York (working with Gavin Thomas) 
MORF, the Multi-Omics Research Factory, is a web-based tool to store, share and analyse biological 'omics data, making it quicker and easier for scientists to understand and interpret their results. MORF will ensure biomanufacturing of chemicals from biological sources can compete at scale with those produced using non-renewable resources and reduce reliance on fossil resources, such as oil. If you would like to discuss how the MORF team can help you to use 'omics analysis, please contact Joyce.
Gareth Little, University of Nottingham (working with John Heap)
Development of a new enzyme evolution biotechnology making the improvement of enzymes, which are crucial in the development of sustainable green alternatives to many unsustainable conventional chemical processes, quicker, more effective and affordable. This platform technology is applicable across many different bioeconomy sectors. If you use, or would like to use enzymes in your work, Gareth would love to hear from you. 
Harriet Berry, Royal Holloway, University of London (working with Paul Fraser)
Natural Compound Solutions will exploit plant-based feedstocks to produce high value carotenoids with widespread potential applications in the food, feed, cosmetic, health and pharma sectors. These carotenoid products have the potential to replace those currently generated using fossil-fuel derived supply chains which have adverse environmental impacts. Contact us for quotes and enquiries at natcominfo@rhul.ac.uk.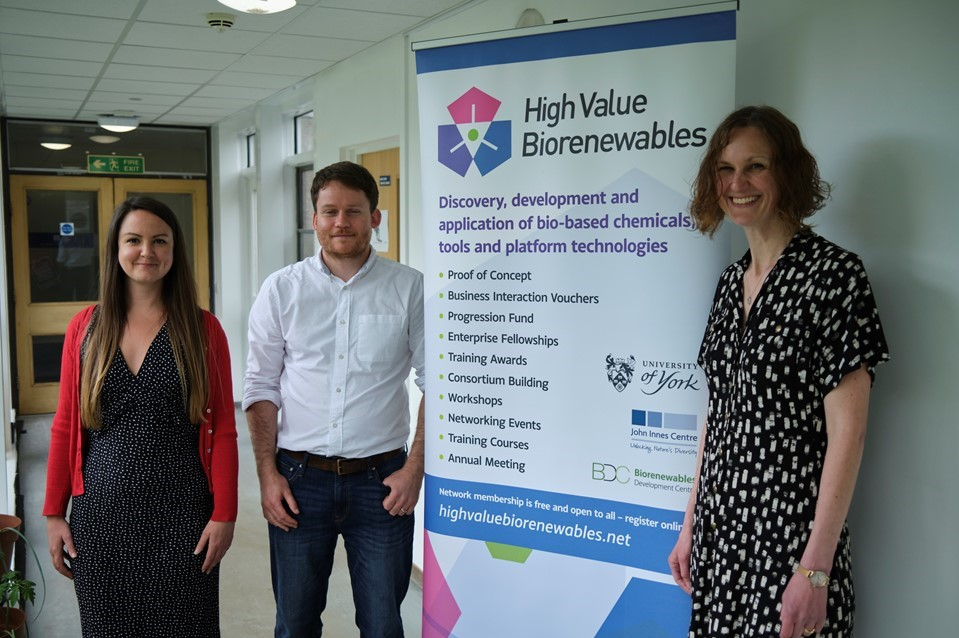 Harriet, Gareth and Joyce - HVB Enterprise Fellows
All three Fellows have started their activities and will be attending the ChemUK Supply Chain Expo 11-12 May, where they will all be exhibiting in the Bio-Innovation Poster Zone and speaking at BioVale's innovation in bio-based chemicals flash talk session. HVB members can meet the Enterprise Fellows and hear of their progress at the HVB Annual Meeting in September 2022.  
For further information, please connect with the HVB Fellows via the Directory. 
---